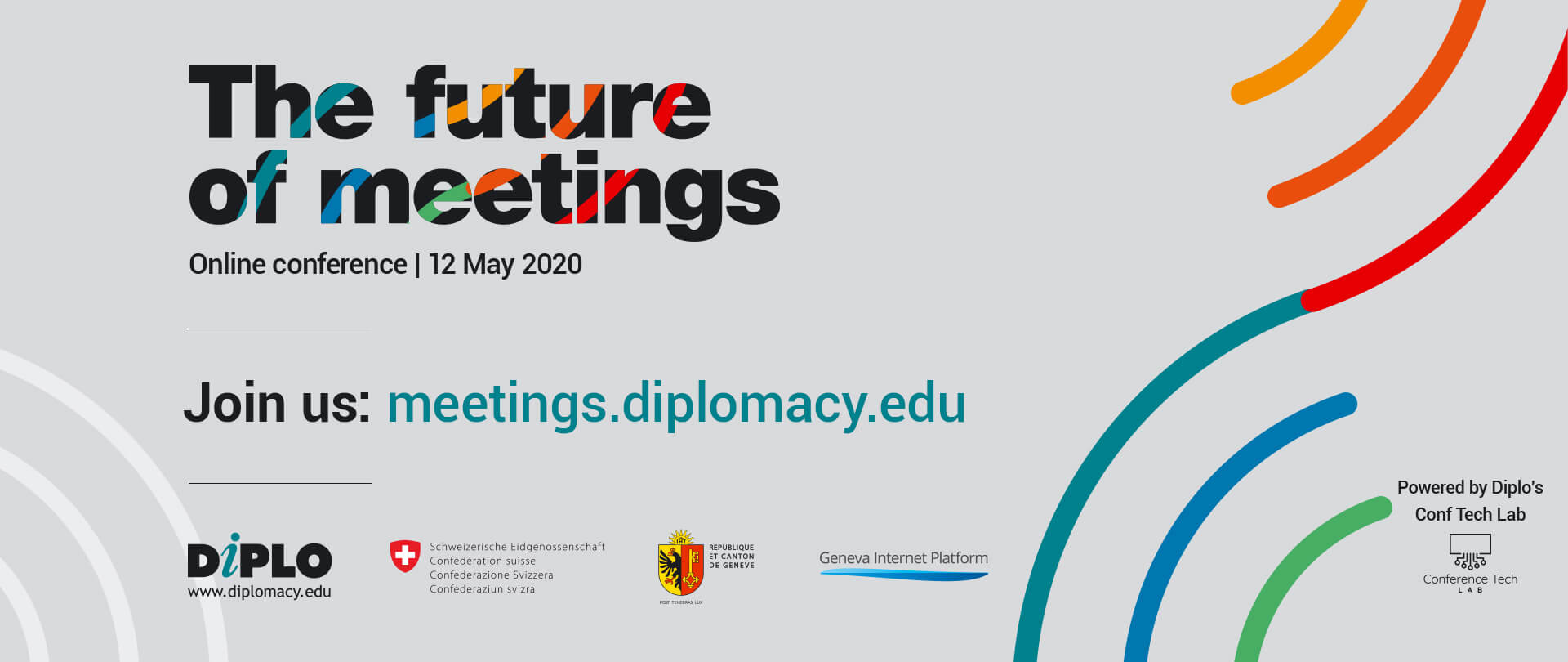 The Future of Meetings: Doors open at 12:45 UTC.
Registrations are now closed.
Streaming of sessions is available on this page.
For more information, please write to us at webinars@diplomacy.edu.
The Coronavirus is changing how we meet and interact, ushering new ways of organising conferences and other events. Blended meetings, which combine virtual with face-to-face interactions, will become the norm.
The ongoing transformation of meetings and diplomacy will require us to adapt quickly to this new norm. Future meetings will require us to become conversant with technology, take security into account, adopt new moderation techniques, keep behavioural aspects in mind, and adjust traditional diplomatic meetings to blended formats.
DiploFoundation's online conference The Future of Meetings was held on Tuesday, 12th May, from 13:00 to 16:00 UTC (15:00–18:00 CEST), and tackled the most pressing questions and issues, and how to resolve them. Are good online moderators born or bred? How do we combine online and onsite events into the same policy process? Can we integrate corridor chats into formal virtual meetings?
The conference included 20 sessions (grouped into 5 tracks) with 15-minute pointed discussions that will be facilitated by trained moderators.
Reports and video recording are coming soon.
TIME
EVENT
13:00–13:30 UTC

Welcome remarks
– Mr Antonio Hodgers (President, State Council, Canton of Geneva)

COVID-19 and online meetings
– Mr Bernardo Mariano (Chief Information Officer and Director, Department of Digital Health and Innovation, World Health Organization (WHO))

Setting the scene: A future of blended meetings
– Dr Jovan Kurbalija (Executive Director, DiploFoundation; Head, Geneva Internet Platform (GIP))

Meetings and Environment:
– Dr Stephanie Borg Psaila (Director, Digital Policy, DiploFoundation)

Principles and Guidelines for the Future of Meetings
– Ms Virginia Paque (Programme Manager, Internet Governance and E-diplomacy, DiploFoundation)

Conference Photo

TECHNOLOGY:

Platforms | Apps

SECURITY:

Data protection| Confidentiality

MODERATION:

Planning | Executing

BEHAVIOUR:

Psychology | Culture | Emotions

DIPLOMACY:

Protocol | Procedures | Etiquette

13:30–13:45 UTC

Selecting online meeting platforms: Costs, usability, and functionality

Security concerns of online meetings: Software flaws, leaks, data protection

Talents and skills for effective event moderation: Recruitment and training

Distractions: How our attention span varies between online and in situ

Seamless procedures: Is the future of diplomatic meetings a blend of online and in situ?

13:45–14:00 UTC

Apps and tools: Ice-breakers, surveys, and animations

'Zoombombing' and intruders: Avoiding unwanted guests

Over-prepare and be ready for surprises: Roles and scenarios in online meetings
To see and not be seen (online): The psychology of face-to-face interaction and body language

'Extraordinary' and 'plenipotentiary' online: Between tradition and innovation

14:00–14:15 UTC
Coffee break
Exhibition: Art Goes Online
14:15–14:30 UTC

Artificial realities: Meeting via holographic technology, and virtual and augmented realities

The Chatham House rule in online meetings: Attribution and discretion

Are we out of time? Time management tips for online moderation

Corridor chats: Have online meetings killed impromptu conversations?

Discuss, draft, and vote: Moving diplomatic practice online?

14:30–14:45 UTC
The use of artificial intelligence, chatbots, and other advanced meeting technologies

Data protection and confidentiality: Who is (mis)handling records from our meetings, and how?

Your Plan B: Things that can go wrong and how to react

E-politeness:  How to handle long speeches, tech glitches, and other interruptions

Bonjour, buenos días, guten Morgen:  Translation and interpretation for the new 'online' diplomacy

14:45–15:00 UTC
Coffee break
Exhibition: Art Goes Online
15:00–15:30 UTC
Wrapping up: The main takeaways
15:30–15:40 UTC
Coffee break
15:40–16:00 UTC
Graduation ceremony for participants of DiploFoundation's Online Meetings for Diplomacy and Global Governance course
Last updated: 12 May 2020